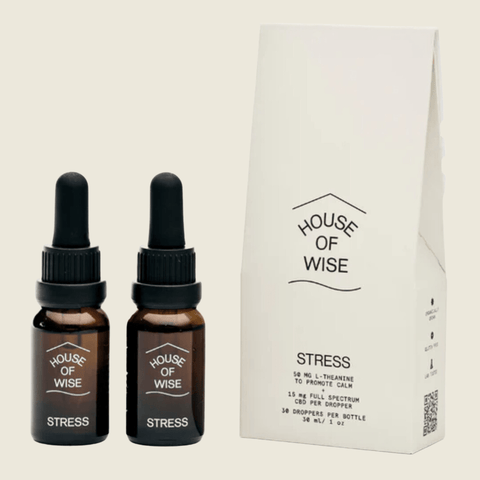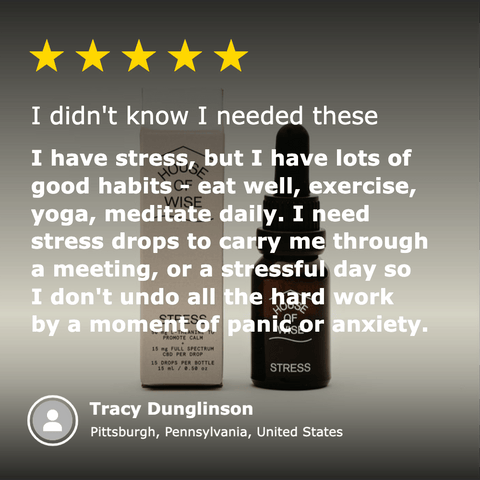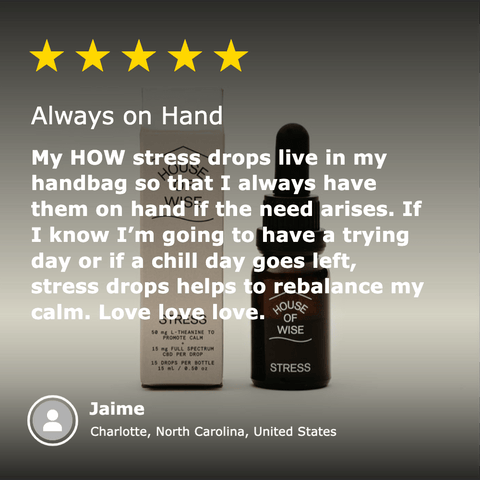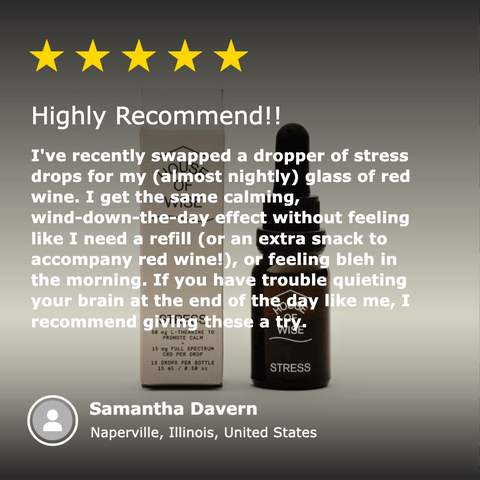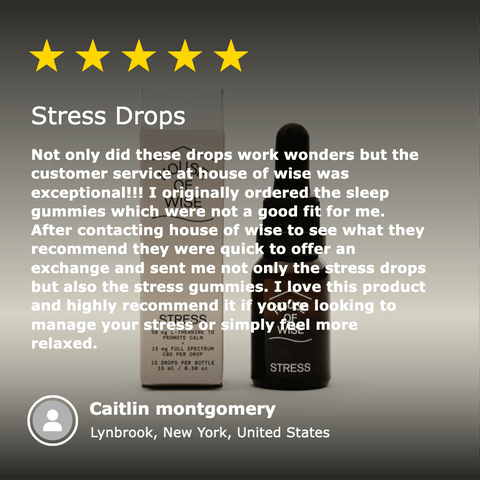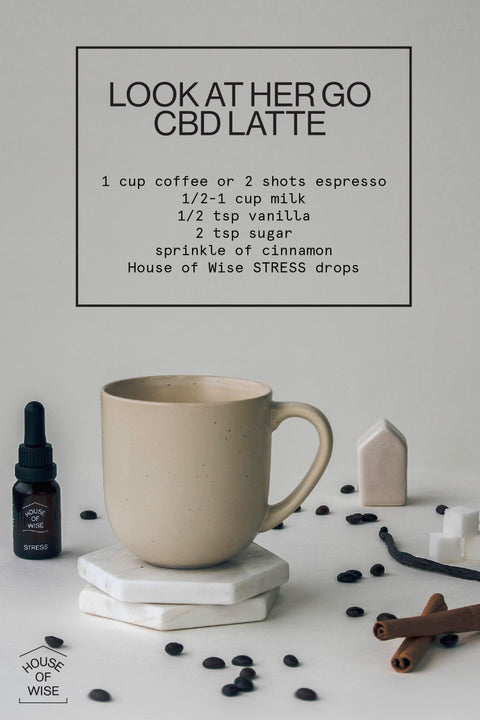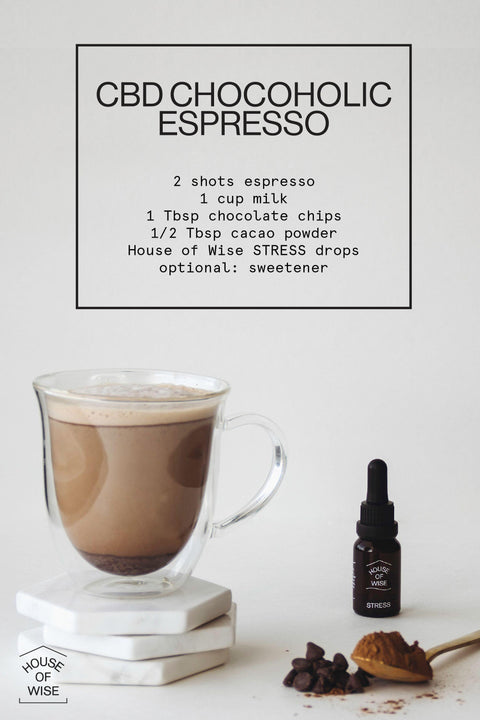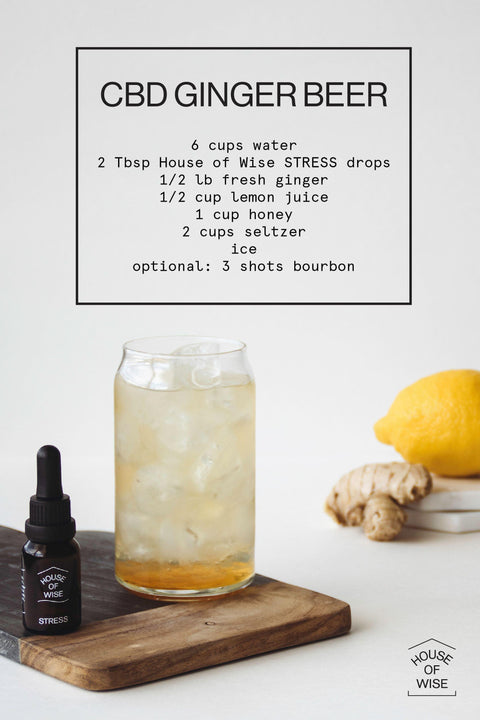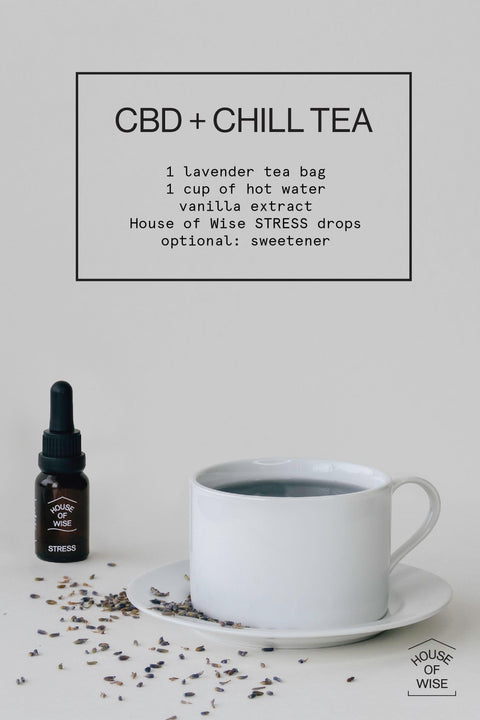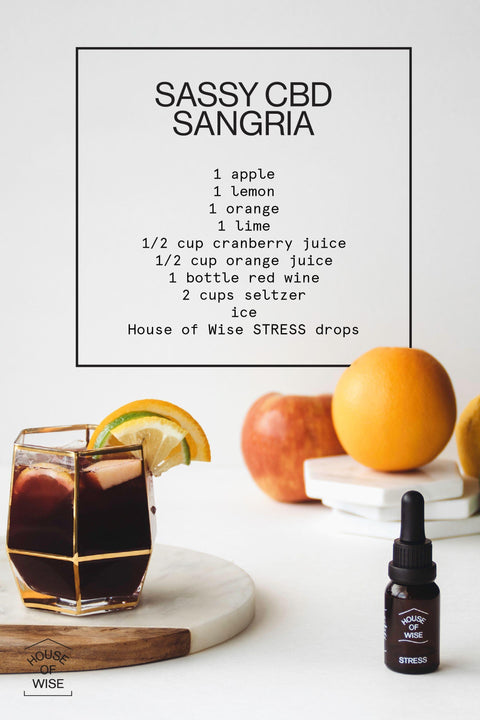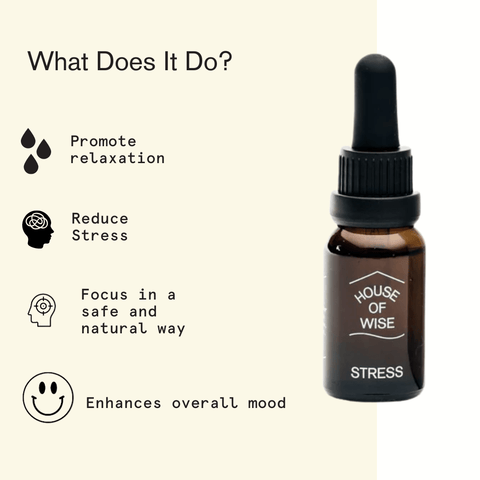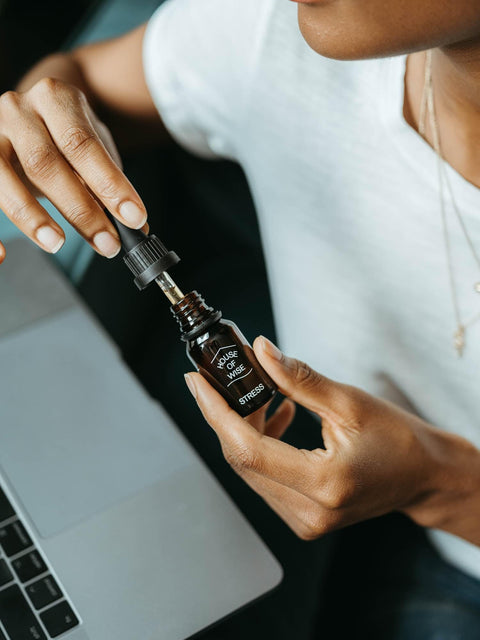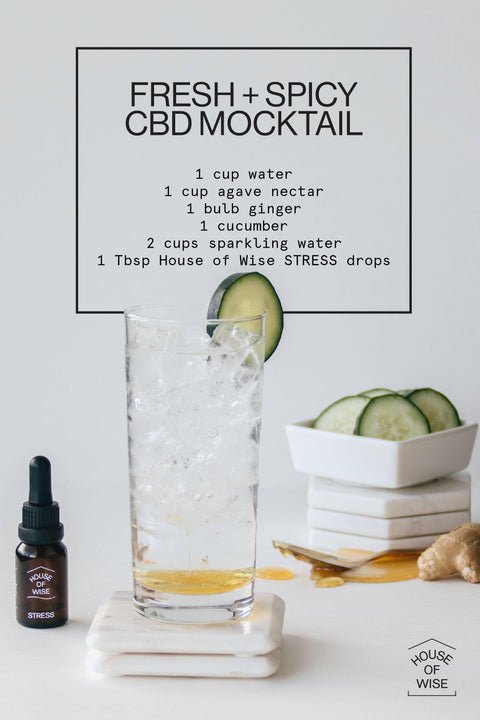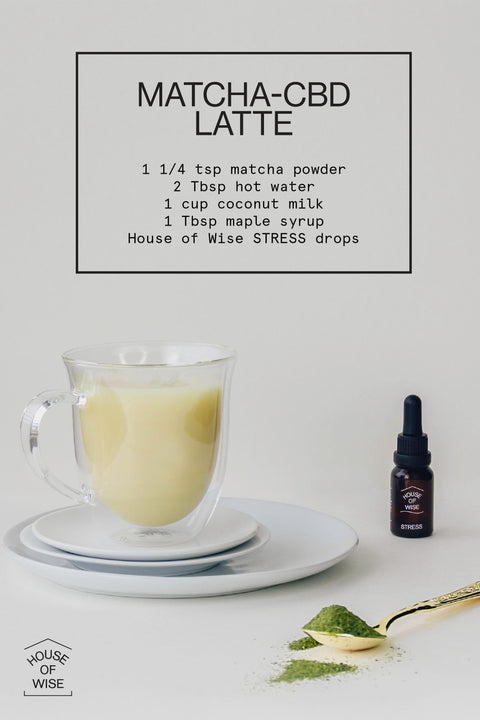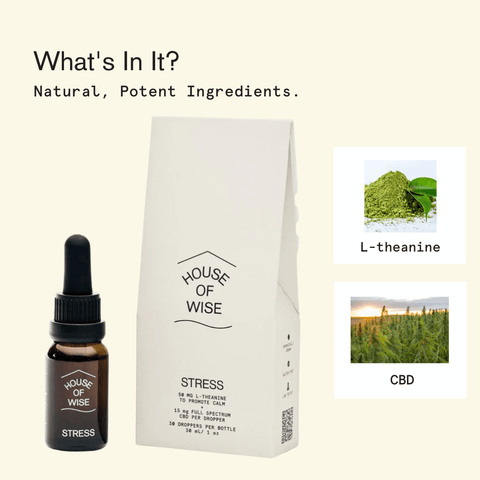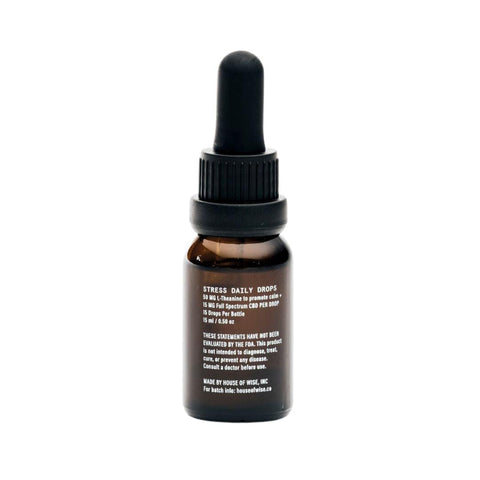 CBD Stress Oil (450mg)
Show more
Unwind and destress naturally. 
House of Wise CBD Stress Oil is made of 50mg of L-theanine to promote calm + 15mg of Full Spectrum hemp-derived CBD in every 1 ml drop. Each bottle contains 15 drops. 
Ingredients
Dosing & Directions
Delivery & Returns
All orders ship within 1-2 business days. Keep in mind we do not ship USPS or UPS on weekends or holidays.

If you've got questions or feedback for House of Wise, please let us know at info@houseofwise.co.

------
The customer is responsible for return shipping costs. When the product is received by House of Wise, we will process a refund. We accept returns for unopened packages and do not accept returns once the item has been opened.
Lab Reports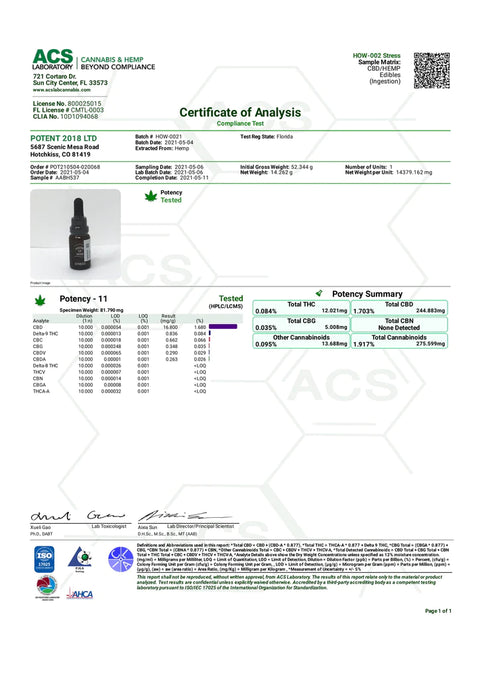 Disclaimer
*All House of Wise CBD products contain 0.3% THC or less and are made from hemp-derived CBD from Denver, CO. These products have not been evaluated by the Food and Drug Administration (FDA). House of Wise provides no medical advice and our products are not intended to diagnose, treat or cure any disease. Always check with your physician before starting any new product especially if you are pregnant, nursing or have any pre-existing injuries or medical conditions.
*Do not drive or operate heavy machinery after taking SLEEP drops. Will cause drowsiness. 
Each batch is third-party tested and independently verified. 
CA Prop 65 WARNING: Cancer and Reproductive Harm – www.P65Warnings.ca.gov.
Unwind & Destress Naturally
Our Stress Relief Drops are a powerful blend of natural ingredients designed to help calm the mind and promote relaxation. Made with 50mg of L-theanine and 15mg of Full Spectrum hemp-derived CBD in every 1 ml drop, these drops are a convenient and effective way to manage stress and anxiety.
Ingredients and their benefits
L-theanine
Full Spectrum CBD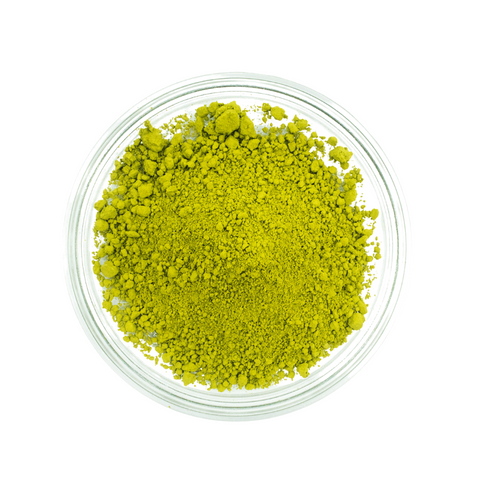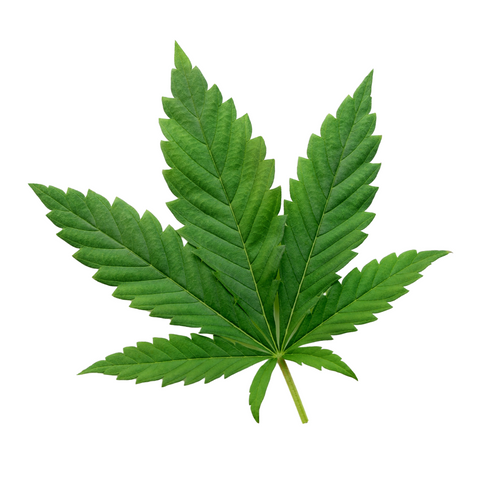 CBD Stress Oil
Serving Size
1 ml
CBD Content
15 mg per serving
Key Ingredients
50 mg L-theanine and 15 mg Full Spectrum hemp-derived CBD
Benefits
• Promotes relaxation and calmness
• Helps to reduce stress and anxiety
• May improve mood and focus
• Non-intoxicating and non-addictive
• Natural and safe alternative to prescription medications
Recommended Use
Take 1 ml under the tongue or mix with your favorite beverage up to twice daily as needed for stress relief
Key Differences
• Made with L-theanine to promote calm and relaxation
• Contains Full Spectrum hemp-derived CBD for additional wellness benefits
• Easy-to-use dropper allows for customizable dosing
When to Take
As needed for stress relief
Why to Take
To promote relaxation, reduce stress and anxiety, and improve mood and focus in a safe and natural way
Can It Be Taken with Other Products?
Yes, it can be taken with other House of Wise products for a more comprehensive approach to wellness. However, be sure to follow recommended serving sizes for each product.
Frequently Asked Questions
Stress Drops are a natural stress relief supplement made with L-theanine and full-spectrum hemp-derived CBD, which work together to promote a sense of calm and relaxation.

L-theanine is an amino acid found in tea leaves that has been shown to reduce stress and anxiety without causing drowsiness.

CBD has also been found to have calming properties that may help with stress and anxiety. These drops can be used as a natural way to manage daily stress or as an aid in promoting restful sleep.
What are the benefits of L-theanine?
L-theanine is an amino acid that is naturally found in green tea leaves and is known for its ability to promote relaxation and reduce stress levels. Some of the benefits of L-theanine in House of Wise Stress Drops include:

Promotes relaxation: L-theanine helps to promote relaxation without causing drowsiness, which can help to alleviate symptoms of stress and anxiety.

Reduces stress levels: L-theanine has been shown to reduce levels of the stress hormone cortisol in the body, which can help to reduce the negative effects of stress on both the mind and body.

Enhances cognitive function: L-theanine has been shown to enhance cognitive function by improving focus, attention, and mental clarity.

Combined with full spectrum CBD oil, House of Wise Stress Drops can help to promote calmness, reduce stress and anxiety, and support overall well-being.
What are the benefits of full-spectrum hemp-derived CBD?
Full-spectrum hemp-derived CBD contains a wide range of cannabinoids, terpenes, and other beneficial compounds that work together to enhance its therapeutic effects. Some potential benefits of full-spectrum hemp-derived CBD include:

CBD has been shown to have analgesic properties, which may help alleviate chronic pain.

Anti-inflammatory effects: CBD has been found to have anti-inflammatory properties, which may help reduce inflammation and associated symptoms.

Stress relief: CBD has been shown to have anxiolytic effects, which may help reduce anxiety and stress levels.

Neuroprotective properties: CBD has been found to have neuroprotective properties, which may help protect the brain from damage and degeneration.

It's worth noting that more research is needed to fully understand the potential benefits of full-spectrum hemp-derived CBD, and it should not be considered a replacement for medical treatment or advice.
How do I take Stress Drops?
To take House of Wise Stress Drops, simply shake the bottle well, and then use the dropper to place a few drops under your tongue. Hold the drops under your tongue for 30-60 seconds before swallowing, to allow for sublingual absorption. The recommended serving size is one full dropper (1mL), but you can adjust the amount you take based on your individual needs and preferences. It's also a good idea to consult with a healthcare professional before adding any new supplements to your routine.
Can I mix Stress Drops with other liquids or food?
While it is safe to consume Stress Drops directly, they can also be added to your favorite beverage or food if desired. This makes it a convenient and versatile option for those who prefer to incorporate their daily CBD intake into their routine without disrupting their preferred habits.

However, it's important to note that adding Stress Drops to hot liquids or foods may reduce the effectiveness of the product. It's also recommended to avoid heating the drops or exposing them to high temperatures, as this can alter the composition of the oil and potentially reduce its potency.
Is Stress Drops safe to use?
Yes, House of Wise Stress Drops are safe to use. The drops are made with all-natural, high-quality ingredients and are free from harmful additives or chemicals. Additionally, House of Wise uses third-party lab testing to ensure the potency and purity of their products, providing customers with the peace of mind that they are using a safe and reliable product.

However, as with any supplement, it's always a good idea to consult with a healthcare professional before using if you have any concerns or underlying health conditions.
Will Stress Drops make me feel high?
No, Stress Drops will not make you feel high as it contains less than 0.3% THC, which is not enough to produce psychoactive effects. Unlike THC, which is the psychoactive compound found in marijuana that produces a "high," CBD is non-intoxicating and does not produce a euphoric sensation. Instead, the benefits of taking Stress Drops may include a sense of calmness, reduced anxiety, and improved mood.

Many people also report improved sleep quality and stress relief from using CBD products. However, the effects may vary depending on the individual and the dosage used. It's always recommended to start with a low dose and gradually increase until the desired effects are achieved.
Customer Reviews
09/05/2023
Anonymous

United States
I recommend this product
Works really well!!!
I have been using Benadryl and Melatonin to sleep - this plus magnesium powder has made such a huge difference and I've been able to stop both. Absolutely love!
08/15/2022
Tracy D.
Pittsburgh, Pennsylvania, United States
I didn't know I needed these
I have stress, but I have lots of good habits - eat well, exercise, yoga, meditate daily. I need stress drops to carry me through a meeting, or a stressful day so I don't undo all the hard work by a moment of panic or anxiety.
07/27/2022
Caitlin m.
Lynbrook, New York, United States
Stress Drops
Not only did these drops work wonders but the customer service at house of wise was exceptional!!! I originally ordered the sleep gummies which were not a good fit for me. After contacting house of wise to see what they recommend they were quick to offer an exchange and sent me not only the stress drops but also the stress gummies. I love this product and highly recommend it if you're looking to manage your stress or simply feel more relaxed.
07/08/2022
DIANNE O.
High Springs, Florida, United States
Absolutely LOVE this product
These drops make me feel so at peace but also without feeling loopy! In fact, I am more focused, better to handle multiple tasks calmly, without feeling rushed or overwhelmed - HUGE for me! I also get a lot of pain relief (broke both of my wrists 3 months ago.) I'm getting ready to subscribe for the savings. Thank you for this amazing product!
04/18/2022
Samantha D.
Naperville, Illinois, United States
Highly Recommend!!
I've recently swapped a dropper of stress drops for my (almost nightly) glass of red wine. I get the same calming, wind-down-the-day effect without feeling like I need a refill (or an extra snack to accompany red wine!), or feeling "bleh" in the morning. If you have trouble quieting your brain at the end of the day like me, I recommend giving these a try.