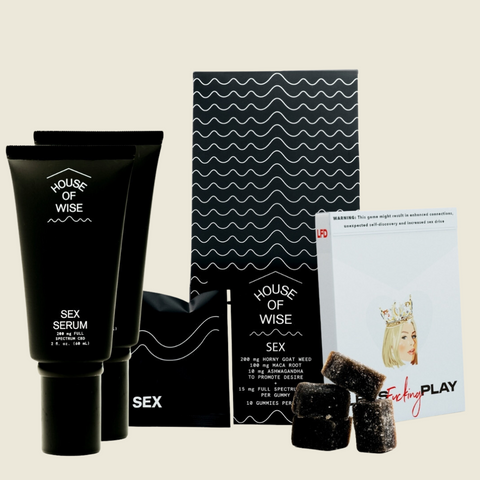 The Connection Kit
Show more
Our kinkiest kit yet. 
This Limited Edition Connection Kit is designed to build an intimacy routine in 2023, whether alone, or with partners.
When was the last time you made a romantic date with yourself or your partner? We set routines for activity, nutrition, and work-life balance, but leave our intimate lives under a dirty laundry pile. This approach isn't doing us any favors. Establishing a personal intimacy routine can help you feel loved and confident in and out of the bedroom. 
For many, the phrase "intimacy" is complex and sensitive. For others, it's exciting and beautiful. All those feelings are valid, and House of Wise wants to help you embrace it! Friendly reminder: you don't need permission from anyone to love yourself. 
This Kit includes Sex gummies, two tubes of Sex Serum, and Serena Kerrigan Let's Fucking Play card game.
House of Wise Sex gummies are made of 200mg Horny Goat Weed Extract + 100mg Maca Root Extract + 10mg Ashwagandha Extract to promote desire + 15mg of Full Spectrum hemp-derived CBD in every gummy. Each box contains 10 gummies. 
House of Wise Sex Serum is made using an original, vegan, plant-based formula that is pH-balanced to promote optimal levels of acid and bases in the blood at which the body functions best. It is latex-safe, clinically tested, and free of alcohol, petroleum-based ingredients, parabens, and dyes.
Serena Kerrigan Let's Fucking Play card game might result in enhanced connections, unexpected self-discovery and increased sex drive. Self pleasure is the ultimate act of self love and this game is designed to help you do just that. Explore playing with yourself and your body alone, with a  partner, or with friends.
Ingredients
Dosing & Directions
Delivery & Returns
All orders ship within 1-2 business days. Keep in mind we do not ship USPS or UPS on weekends or holidays.

If you've got questions or feedback for House of Wise, please let us know at info@houseofwise.co.

------
The customer is responsible for return shipping costs. When the product is received by House of Wise, we will process a refund. We accept returns for unopened packages and do not accept returns once the item has been opened.
Lab Reports
Disclaimer
*All House of Wise CBD products contain 0.3% THC or less and are made from hemp-derived CBD from Denver, CO. These products have not been evaluated by the Food and Drug Administration (FDA). House of Wise provides no medical advice and our products are not intended to diagnose, treat or cure any disease. Always check with your physician before starting any new product especially if you are pregnant, nursing or have any pre-existing injuries or medical conditions.
*Do not drive or operate heavy machinery after taking SLEEP drops. Will cause drowsiness. 
Each batch is third-party tested and independently verified. 
CA Prop 65 WARNING: Cancer and Reproductive Harm – www.P65Warnings.ca.gov.
Customer Reviews
03/09/2023
Terry K.

United States
Thank you for spicing up my Valentines Day
I saw this product while searching online for a list of the top valentines day libido products. I found House of Wise and decided to try. The product shipped fast, customer support (chanelis) was amazing and needless to say my husband was happy. I recommend this kit whether with your partner or to experience on your own. Will definitely try more products and tell friends. Thank you!